Translate this page into:

doi:
10.25259/GJMPBU_31_2023
The Emerging Role of Vitamin D in Neurological Health and Disease
1
Department of Biochemistry, Combined Military Hospital Lahore Medical College and Institute of Dentistry (National University of Medical Sciences)

,

Lahore

,

Pakistan

*
Corresponding author: Syed Imran Ali Shah, Department of Biochemistry, Combined Military Hospital Lahore Medical College and Institute of Dentistry (National University of Medical Sciences), Lahore, Pakistan. s.shah10@alumni.imperial.ac.uk
Received: , Accepted: ,
© 2023 Published by Scientific Scholar on behalf of Global Journal of Medical, Pharmaceutical, and Biomedical Update
Licence
This is an open-access article distributed under the terms of the Creative Commons Attribution-Non Commercial-Share Alike 4.0 License, which allows others to remix, transform, and build upon the work non-commercially, as long as the author is credited and the new creations are licensed under the identical terms.
How to cite this article: Noor A, Shah SIA. The Emerging Role of Vitamin D in Neurological Health and Disease. Glob J Med Pharm Biomed Update 2023;18:28.
Abstract
Vitamin D has come up as a pluripotent biochemical modulator of several systemic functions including its well-established musculoskeletal effects functioning as well as other key roles in nervous, cardiac, immune, vascular, and endocrinological systems. It undergoes metabolic activation in the skin, liver, and kidneys to exert its systemic actions primarily through Vitamin D receptor-mediated gene expression. In recent times, the involvement of Vitamin D has been documented in the regulation of neurotrophins, neural differentiation, and maturation, and the synthesis of neuromodulators including acetylcholine, dopamine, and gamma-aminobutyric acid. Clinical studies have also highlighted the involvement of Vitamin D in neurological disorders, thereby underscoring its potential in the clinical management of such disorders. Further, research is required to determine the multipronged roles of Vitamin D and its molecular pathways in neurophysiology for the potential prevention and treatment of neurological dysfunction.
Keywords
Cholecalciferol
Vitamin D
Nervous system
Neurological health
Neurological disease
INTRODUCTION
A lipid-soluble vitamin, Vitamin D (calciferol), belongs to the family of steroidal agents and is present in two different forms in plants and animals, namely, ergocalciferol (D2) and cholecalciferol (D3), respectively [Figure 1]. It acts as a hormone and affects different body organs with major actions on bones, intestines, and kidneys for the regulation of mineral homeostasis, specifically phosphorus, and calcium.[1] Calciferol is involved in numerous physiological functions and alterations in its concentrations and signaling pathways are associated with various pathological conditions.[2]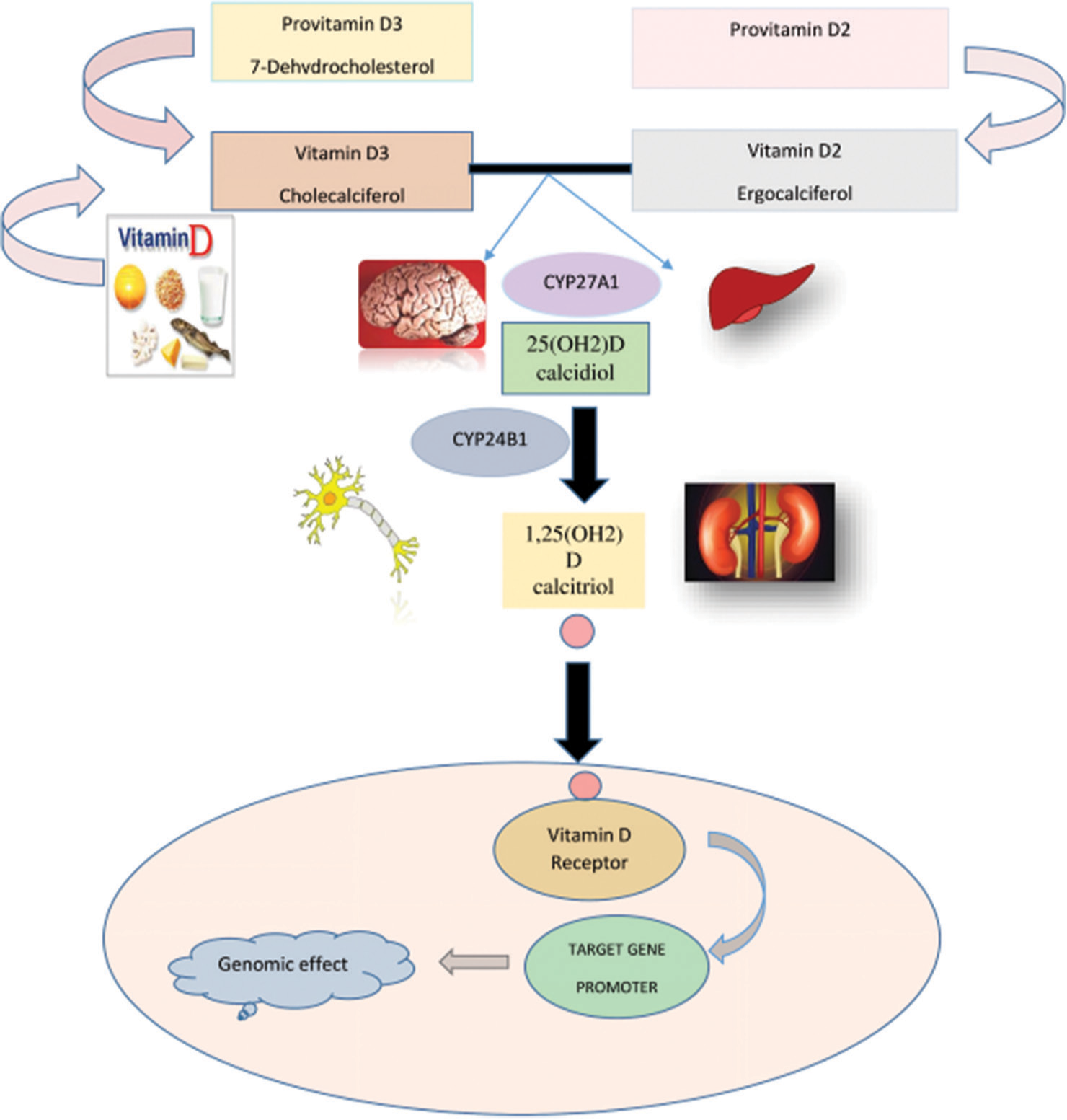 Increasing evidence from recent research studies has pointed out the complex and crucial role of Vitamin D in the development and functioning of the nervous system including the brain, spinal cord, and related structures through modulation of many important processes including cellular proliferation, differentiation, immunoregulation, and neuroprotection.[3] The current review recaps the salient features of Vitamin D and revisits the evidence accrued thus far on its neurological functions and related clinical disorders [Table 1] An extensive literature exploration was carried out on this topic using databases, including Google Scholar, PubMed, Scopus, and Web of Science.
| Physiological mechanism | Pathological outcome in Vitamin D deficiency | Associated clinical disease |
| --- | --- | --- |
| Neuroprotective function, regulation of gene expression, thrombolytic property, vasodilation, and antioxidant action | Neurodisruption, vasoconstriction, and disintegration of blood-brain barrier | Cerebrovascular accidents (Stroke) |
| Clearance of amyloid plaque | Accumulation of amyloid plaque | Alzheimer's disease |
| Neuroprotection, anti-inflammatory effects, and anti-oxidant response | Neuroinflammation, memory loss, and disorientation | Cognitive dysfunction |
| Restoration of dopamine levels | Defective neurotransmission | Parkinson's disease |
| Immunomodulation, modulation of interleukins and lymphocytes, and calcium homeostasis | Immune dysregulation and calcium imbalance | Multiple sclerosis |
| Neurotrophic support and antioxidant activity | Oxidative damage | Amyotrophic lateral sclerosis |
VITAMIN D BIOCHEMISTRY
Dietary sources and metabolic activation
Naturally, Vitamin D is processed in the epidermis of the skin through the conversion of 7-dehydrocholesterol provided by the diet or produced endogenously in the presence of sunlight.
The dietary sources of Vitamin D include the yolk of eggs, different varieties of fish, margarine, fish oil, as well as Vitamin D-boosted products[2] [Figure 1]. The diet-obtained or cutaneous form of Vitamin D is inactive and requires two steps of hydroxylation. The steps primarily take place in the liver with the help of 25-hydroxylase, and in other organs including the prostate glands, kidneys, brain, placenta, and the immune system in the presence of 1-α-hydroxylase, forming active form of Vitamin D or 1,25-dihydroxycholecalciferol, also called calcitriol[2,4] [Figure 2]. In the serum, Vitamin D is predominantly present in the single hydroxylated form of 25-hydroxycholecalciferol. This form has less affinity for Vitamin D receptor (VDR) than the active 1,25-dihydroxycholecalciferol.[5] This hormone-like vitamin is associated with systemic disorders such as heart diseases, vascular problems, malignant tumors, brain hemorrhages, and diabetes mellitus to name a few. Vitamin D deficiency has also been associated with the impairment of cognition and dementia as well as psychiatric conditions such as psychosis and autism in addition to its well-established skeletal abnormalities including rickets and osteomalacia.[6] Hypervitaminosis D is not common but may cause severe health issues like hypercalcemia. The toxicity of Vitamin D occurs as a result of excessive ingestion of foods rich in Vitamin D or overdose with Vitamin D containing drugs either when administered repetitively or taken in a large dose.[7] The sign and symptoms resulting from Vitamin D toxicity are varied and typically include anxiety, confusion, gastric disturbances, cardiac impairment, and kidney dysfunction.[8]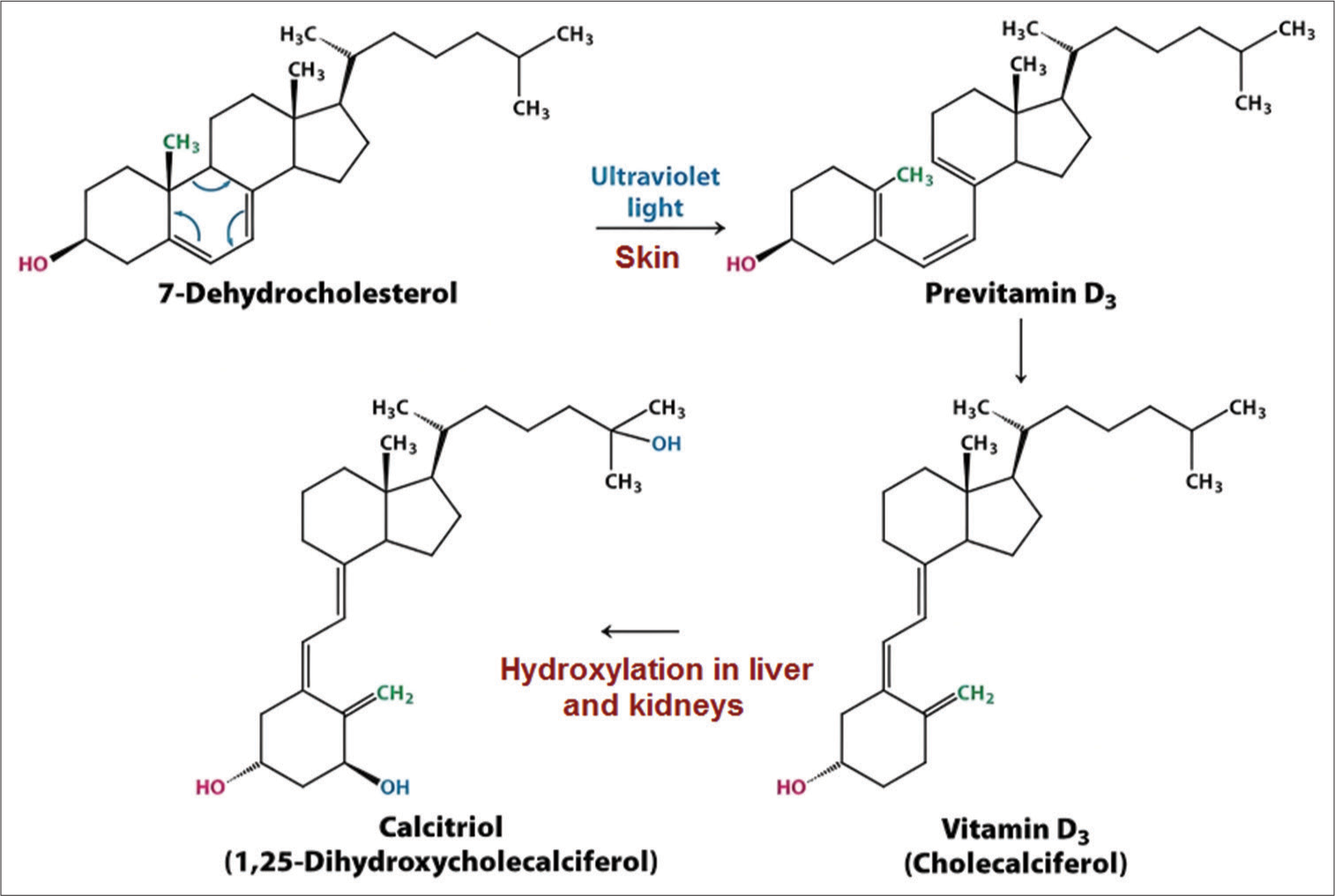 Receptor mechanism
The active form of Vitamin D exerts its function through genomic and non-genomic actions. In genomic actions, intracellular VDR that belongs to the nuclear receptors group is activated by Vitamin D to affect the target cell. VDR acts as a transcriptional factor and changes the expression of genes linked with different metabolic pathways. VDR has been found in almost all types of cells, which may elaborate its many functions in different tissues[9] [Figure 1]. 1,25-dihydroxycholecalciferol may act through another type of receptor present in the plasma membrane as membrane-associated rapid response steroid-binding (MARRS) receptors. These MARRS receptors help the hormonal form of Vitamin D in the regulation of calcium concentration in the cytosol.[2]
EFFECTS OF VITAMIN D ON NEUROLOGICAL HEALTH
Vitamin D is a neuroactive steroid that regulates various neurological functions in the body. Cholecalciferol and its metabolites are penetrable through the blood–brain barrier and can be metabolized locally due to the presence of VDR and enzyme CYP27B1 for the formation and CYP24A1 for the degradation of Vitamin D and its metabolites in neural cells.[10-12]
ALTERED VITAMIN D STATUS AND NEUROLOGICAL DYSFUNCTION
CONCLUSION
Vitamin D has been highlighted as a crucial micronutrient in neural development, growth, and maturation. Recent work has also pointed out the link between Vitamin D and diseases that cause neurocognitive dysfunction such as Parkinson's and Alzheimer's. However, most of the work has been limited by a lack of resources, inadequate study designs, inappropriate statistical analyses, and insufficient scientific documentation. It is imperative to undertake properly designed laboratory studies exploring the biochemical signaling pathways of Vitamin D to potentially determine the preventive and therapeutic molecular targets of neurologic pathologies. Vitamin D may then be incorporated as a synergistic agent in the treatment regimens of implicated neurological deficits based on evidence gathered from future interventional studies and randomized control trials.
Declaration of patient consent
Patient's consent not required as there are no patients in this study.
Conflicts of interest
There are no conflicts of interest
Use of artificial intelligence (AI)-assisted technology for manuscript preparation
The authors confirm that there was no use of Artificial Intelligence (AI)-Assisted Technology for assisting in the writing or editing of the manuscript and no images were manipulated using AI.
Financial support and sponsorship
Show Sections